What is an Accumulator Bet?
An accumulator bet, also known as combo bet, is a bet where you accumulate several selections into one single bet. You win when all selections win. The more selections you combine and correctly pick, the more you win. Accumulator bets can never consist of one single selection.
Types of Accumulator Bets
There are many types of accumulator bets that you can choose from. The name of the different types will reflect the number of selections in your betting slip. If you choose two selections for your accumulator bet, then your bet is called a "double accumulator". Three is called a "treble", four selections is called a "four-fold", five selections would be a "five-fold", and so on. See the table below.
| | |
| --- | --- |
| Number of Selections | Name of Bet |
| 2 | Double Accumulator |
| 3 | Treble Accumulator |
| 4 | 4-Fold Accumulator |
| 5 | 5-Fold Accumulator |
| 6 | 6-Fold Accumulator |
| 7 | 7-Fold Accumulator |
| 8 | 8-Fold Accumulator |
| 9 | 9-Fold Accumulator |
| 10 | 10-Fold Accumulator |
| XX | XX-Fold Accumulator |
Example:
So let's say you are interested in football and found the following matches from where you want to pick your selections:
Barcelona FC vs Real Madrid
Manchester U vs Arsenal
You want Barcelona to win in the first game, and Arsenal in the second. So your selections would be those two teams. When you combine them together in one single bet you will have a double accumulator bet. If you wish to add another selection it will then become a treble accumulator, and so on, just like it is explained in the table above.
There is no upper limit to the number of selections that you can make, unless stated by the bookmakers. That allows you to win really big money!
Again, to win on accumulator betting, all of your selections must win. This means that the more selections you make, the smaller chance of winning you'll have. However, a bigger risk also means that your payout will be greater. That is the fantastic thing with accumulator bets – a small stake can lead to big rewards!
Accumulator Betting Options
Can I combine different sports events in an accumulator bet?
Yes, you can. In fact, you are able to combine almost everything you want. For example, you can combine football events with basketball events in one single accumulator bet.
Football is the most popular sports in the world so it does not come as a surprise that football accumulator betting is very popular. However, in today's betting environment you will find lots of other betting markets to choose from. As a result, bookmakers are now opening the door and allowing the possibility to select and combine different sports markets.
Is it possible to combine different types of bets in an accumulator bet?
Yes, it is possible to combine bets such as Asian handicap selections, first goal scorer, correct score, full-time results, etc.
An important thing to remember though, is that bookmakers have different rules when it comes to combining the different types of bets. Most bookmakers don't allow you to accumulate selections from the same event. For example, if one selection is that Team A will win you are not able to combine a selection with the correct score of that same game. There are exceptions, but you will want to be sure, so check out your options before placing any accumulator bet.
How to calculate an Accumulator Bet
Since you now have a better understanding of this type of betting, let's try to have the odds calculation in accumulator bets explained.
Ok, so you understand that you have to select more than one selection. Each selection you pick have an odds associated with it. You will then have to multiply the odds from each selection with each other. The easiest way to calculate the odds is to use a calculator. Let us look at a couple of examples.
Example 1:
Let's look at a double accumulator bet which we recommended through InternetBet.com.

The first selection of the above double bet was that Cardiff would beat Huddersfield giving an odds of 1.75. The second selection was for Swansea to win away over Manchester United with an odds of 1.70. To calculate the odds you will multiply them.
Calculation: 1.75 x 1.70 = 2.975
This double accumulator is giving you an odds of 2.975, which means that if you placed 10 units in any currency your payout would have been 29.75. However, the net profit would have been 19.75.
Example 2: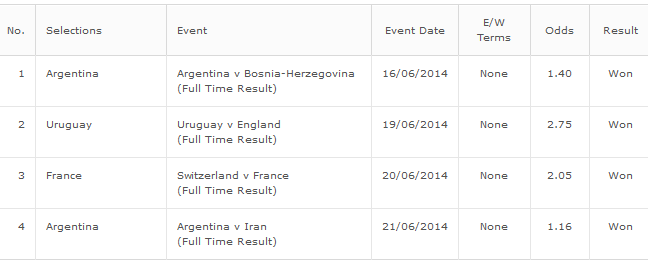 The image above is showing screenshot from a real 4-fold accumulator bet we suggested during the World Cup. Four selections were made and each of the selections won. You can see that there are four odds for each of the selections, which are 1.40, 2.75, 2.05, and 1.16. Now, to calculate the 4-fold accumulator bet use a calculator and multiply the four odds.
Calculation: 1.40 x 2.75 x 2.05 x 1.16 = 9.1553
So as you can see, we multiply each odds with the next and end up with an accumulated odds of 9.1553. This means that if you wager 1 unit in any currency you will get 9.1553 back, which includes your initial bet. So as you see, it is really not complicated to calculate the final odds for an accumulator bet. Just multiply the odds and use a calculator to work out the numbers faster.
When you calculate fractional odds, the best is to convert them to decimal odds. You could then easier calculate the accumulator bet. Another option would be to use a scientific calculator, but it would just take too long to type in everything. A better option would be to use an accumulator calculator that handles both fractions and decimals.
Note: If you are making your selections with an online bookmaker, you do not really need to calculate the odds yourself. That is actually done automatically by the bookmaker as you are adding up your selections.
What are the benefits and risks of Accumulator Betting?
Accumulator bets are very thrilling and exciting for any risk player. The benefit of placing an accumulator bet is that you have the chance to win big money. The fact that small stakes could lead to big profits can be very appealing. Some bookmakers will even reward you up to a 100% bonus if you get all of you selections correct.
If even if you are a low risk player, it can sometimes be boring to wager on odds of 1.2 or a fractional odds of 1 to 5. Placing different types of accumulator bets could however make it more interesting. Let's say you are most often accurate in picking low odds winners and have just found two selections with an odds of 1.30 each. If you play two single bets with a hundred wagered on each selection and win, you will have made a total bet of two hundred with a profit of 60. However, let's say you make an accumulator bet, you will get an odds of 1.69 (1.30×1.30). You will only need to wager one hundred and still yield more profit than placing two single bets. In this example your profit will be 69 by only wagering 100 for the accumulator bet.
The risks are obviously higher in accumulator bets comparing to single bets. You only need to miss one single selection to lose your entire bet. Picking five out of six correct is unfortunately not enough. Some would even think it was a waste of picks, but that is how accumulator bets work. There is just no consolation prize, so before you play you need to ask yourself if you are a risk player or not.
Tips for good Accumulator Bets
The best way to select good accumulator bets is to stay objective and avoid betting blindly on your favourite team. Bet on things that you have studied in advance and know a great deal about.
In betting there is always risks involved, but we know that selections with low odds are the ones that supposedly have the higher chance of winning. Accumulating a few low paying odds can actually come out to a nice bet.
Don't force your selections in to your betting slip. It is better to chose a few selections that are played throughout the week than trying to force selections from one single day.
Don't be afraid to combine different sports markets. If you want to create winning accumulator bets you should hunt for good odds. You can find great value in other sports or leagues.
Positive Asian handicap selections are great for accumulator betting. You will find great value combining them because they initially give you an advantage.