What is Virtual Tennis?
In the world of virtual sports betting, you will be able to find virtual tennis. This type of tennis is computer generated and simulates a singles match. Note that it is not the same as the "Virtua Tennis" game that was published by SEGA.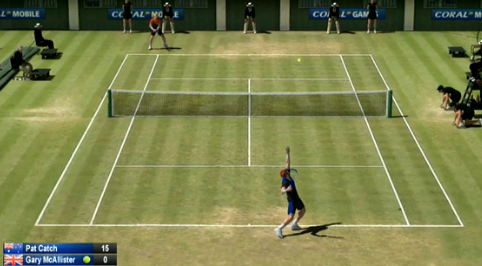 Virtual Tennis Betting
Placing bets on virtual tennis works the same as placing regular tennis bets. The only difference is that rather than betting on a three or five set match, you will just wager on one single game. This means you will only be able to bet on a few options. You will get betting lines for the "Winner", "Total Points", and the "Correct Score". It is then just a matter of betting on the lines you like and enjoy the game.
Remember that one of the tennis player will always have the advantage of serving, but it does not necessary mean he will always serve home the game. However, most of the time that player will be the favourite. A game can last a couple of minutes.
Why should you bet on Virtual Tennis?
The good thing is that you have the choice to bet quite often on virtual tennis. It is because games run 24 hours per day and as often as every four minutes! You do not need to place large bets to enjoy a game, a small stake will do fine. Graphics are quite decent, but the sound from the crowd and the sound from the players hitting the ball enhances the experience. Ah, and no more postponed matches due to rain!
How much can you win?
The amount you can win on virtual tennis will of course depend on the how much you wager. But in terms of odds, you get quite good ones. If you bet on the total points or the correct score you will win more, but it is also more difficult.